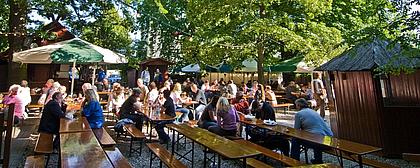 Welcome to the Wülfeler Biergarten
With us, you can simply turn off... and enjoy
An enjoyable atmosphere awaits you in south Hanover. Ideal for just relaxing after work, getting refreshed after a bike tour or meeting friends and associates - with us, you can simply turn off... and enjoy.
Our 'claim to fame' is...our delicious pork loin ribs. According to our guests -the tastiest in town- which helps to spread our 'being the best' reputation throughout Hanover and beyond.
Some of our seating areas are sheltered and heatable, so no worries on chilly evenings. A hot spot service provides mobile internet access for you.
We can host a large number of guests and organize business events, when required.
Try our unique pork loin ribs, the tastiest in town
Our food and drink menu can be found here:
STB 1/2 to the station "Wiehbergstraße"